Live classes come at no additional charge to your monthly subscription. You can join fellow Glo member's from across the globe in any of our live classes when on the website, iOS app, and Android app! There is no limit to how many people can join our live classes, so you can sign up early or join in at the last minute!
To locate the Live Schedule, please visit the Live Class tab on the iOS app, Android app, or the website: https://www.glo.com/live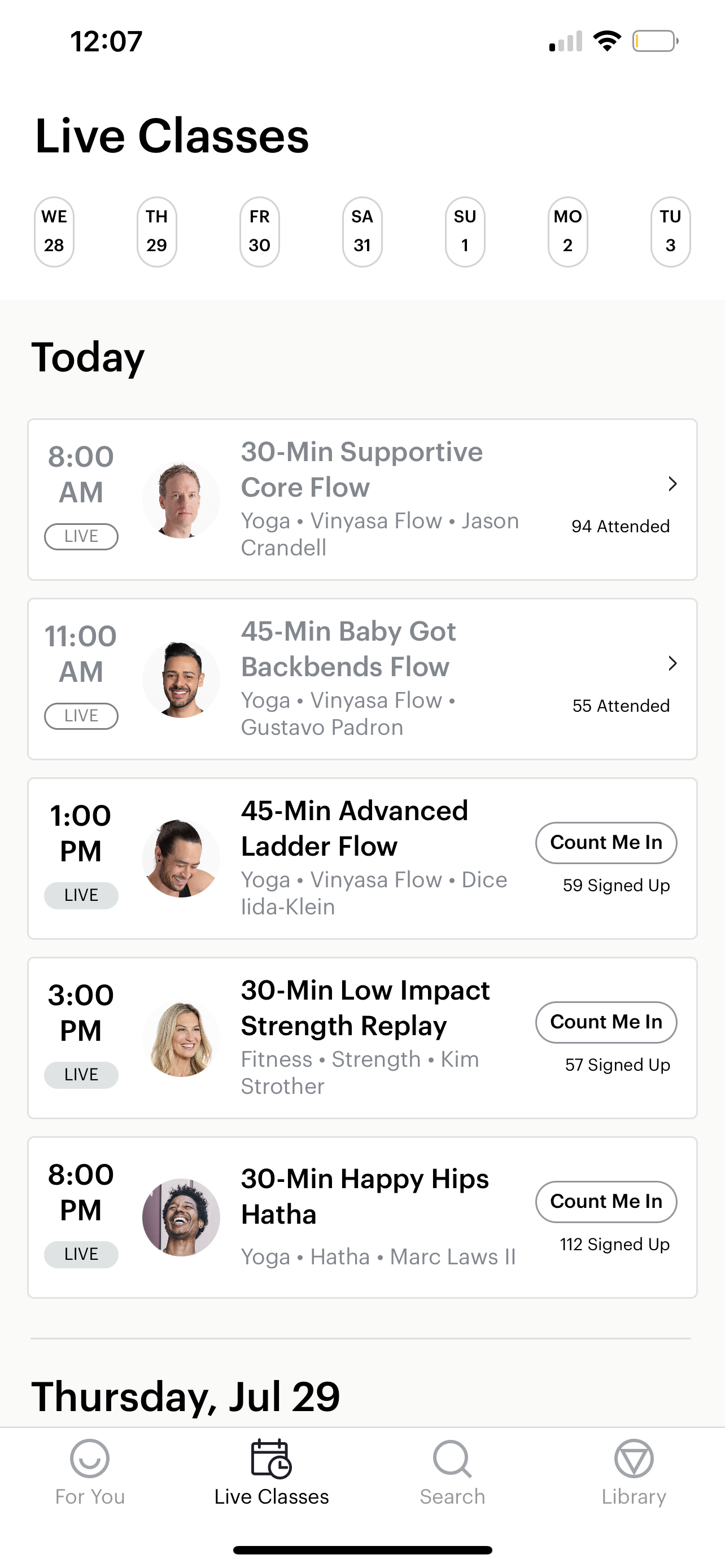 Join a live class by simply navigating to the class on the Live Class tab, or the For You page at the time the class airs and then click it. Before the class airs, you have the option to sign up for the class by selecting Sign me up. Once signed up, you will receive email notifications with details on your class and a 10-minute reminder before the class goes live on Glo. You do not need a password or link to join a live class and you do not need to sign up ahead of time either!
Can't attend a live class you have signed up for? No worries! If you can't make a class there is no need to let us know, although we do appreciate it. You can go to the class you booked and press the Can't make it button on the class you signed up for.
The time zone of each live class will reflect in the time zone you have selected in your Account Settings. To ensure the time zone on your account is set correctly, go to your Account Settings on a web browser, not the app, then scroll down to the time zone, then select the proper time zone.
Live Classes will be made available in our on-demand selection, except in a small number of circumstances in which lifestreams cannot be made available due to technical issues and other unexpected situations. We strive to upload every live class within 24 hours for on-demand viewing, but at times, may take longer. You can find recorded Livestream classes by going to Search and selecting More filters then scroll down to Live Classes and select Live from home and/or Live from Glo. You can also type the keyword "recorded" into the search filter.